Video Tracts
Evantell's online evangelism training - Click Here
Evangelism Explosion
Rescue the Pershing - Christian Music Video - Click Here

Sharing the Gospel online has never been easier!
Online Gospel Video Tracts for you to share with others for free. Put them on your website, send them in an email. A great way to share the gospel of Jesus Christ will everyone via online videos.
---
Christianity - The study and discussion of Christianity and other religions or various topics may be interesting, but it may not be very good or beneficial. It can be like the study of medicine: one can learn a lot of interesting bits of information, but until it is applied to one's body or used to promote good health or to heal someone from a disease or injury, it may not be very good.
Click Here to read on...

Letter To Family - Want to witness to your family members, but not sure if you can? Or does your family live far away and you can't witness to them in person? Try a personal letter to reach out to them. This is a generic letter with a very clear Gospel Presentation in it that you can personalize and send to all your family members. Just personalize the beginning, make some small talk and personalize the end. Who wouldn't read a personal letter from a family member? Check it out!

Need Answers To Tough Questions
Try The Below Links
Christian Message Board
Christian Answers
Millionaires Club
Become a member of the Millionaires Club Today!
Would you like more information on becoming a member of the Millionaires Club? It's simple, we have a vision to get the gospel into the hands of 1 million souls before the Lord returns. For more information please go to the "custom" webpage. Yes, it is FREE! Click Here
Today is
You can helpin sharing
the Gospel Online
Click Here
The Billy Graham Audio Archives
---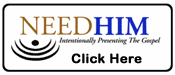 Are you aching to share Christ with lost souls but don't know where to begin? Suppose someone called you and said, "I want to begin Tmy relationship with Christ." Would that make personal evangelism a little easier? It's happening, hundreds of times a day, at 888-NeedHim.
All you need is simultaneous internet access and telephone access and you can share Christ with seeking souls anywhere in the country. There are callers right now who need to talk with you because they NEED HIM. Will you answer the call?
Download 60-second radio spots!
Read their current newsletter
Stories/Testimonials
To learn more, visit
NeedHim.org

---
Featured Tract